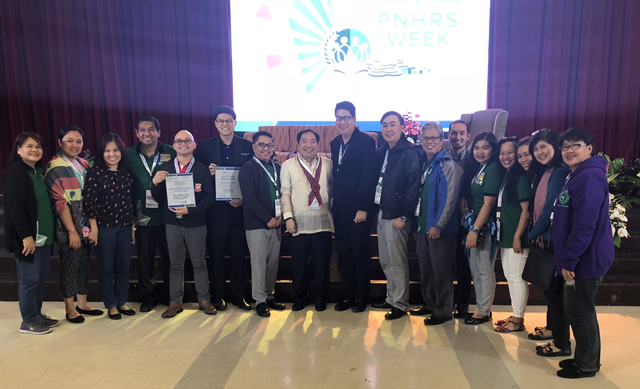 Every second week of August, the health research community celebrates the Philippine National Health Research System (PNHRS) Week. This year's celebration was held last August 6-9, 2018 at the CAP-John Hay Trade and Cultural Center, Baguio City with the theme "Research and Innovation for Equity in Health". The event provided an excellent platform for participants to interact and learn from each other and discuss the current situation, challenges, and advancements related to improving health through reinforced health research and innovation in the regions and local communities.
Aside from the main conference, pre-conferences and other activities were also held on 6-7 August 2018 which were attended by the committee chairs and members of the Health Research and Development Consortium Region IV (HRDCR IV), among which are the following: Communication Campaigns: Designing Effective Collaterals, SOME session: Enhancing the Quality of Monitoring Data from Consortia, PNHRS Capacity Building Committee Business Meeting, Updates on Ethics in Research, Translating Research into Policy, Understanding the Data Privacy Act in the context of health research and Oral Research Presentation and Poster Exhibit Contest.
Year 2017 and 2018 seemed to be a great year for HRDCR IV because once again Region IV consortium won the 1st prize in Oral Research Presentation Contest which was represented by Dr. Supachai Basit of Emilio Aguinaldo College-Cavite (EAC-C).  His study is entitled "Phenotypic Characterizations of Aguinaldo Phage Library Isolated from Dasmariñas, Cavite Creek Using Multidrug Resistant Bacteria Host Cells: Implications for Phage Therapy". The study aims to phenotypically characterize the isolated bacteriophages from Dasmariñas, Cavite creek in terms of morphologic characteristics and its in vitro predation capacity against multidrug resistant bacteria host cells. Mr. Darwin Japheth Eusebio from De La Salle Health Sciences Institute also won 1st prize in the Poster Exhibit Contest-Student Category for his study entitled "Fourier Transform Infrared Spectroscopic Determination Of Spectral Markers In Commercial Products Of Lagundi (Vitex negundo L.)". His research proposed the usage of FTIR Spectroscopy in the quality control of Lagundi (Vitex negundo L.) products. Dr. Virma Espejo of the University of Perpetual Help-Dr. Jose G. Tamayo Medical University and Ms. Eunice Gamba of EAC-C also represented the Region IV consortium at the Poster Exhibit Contest-Professional Category and Oral Research Presentation-Student Category respectively.