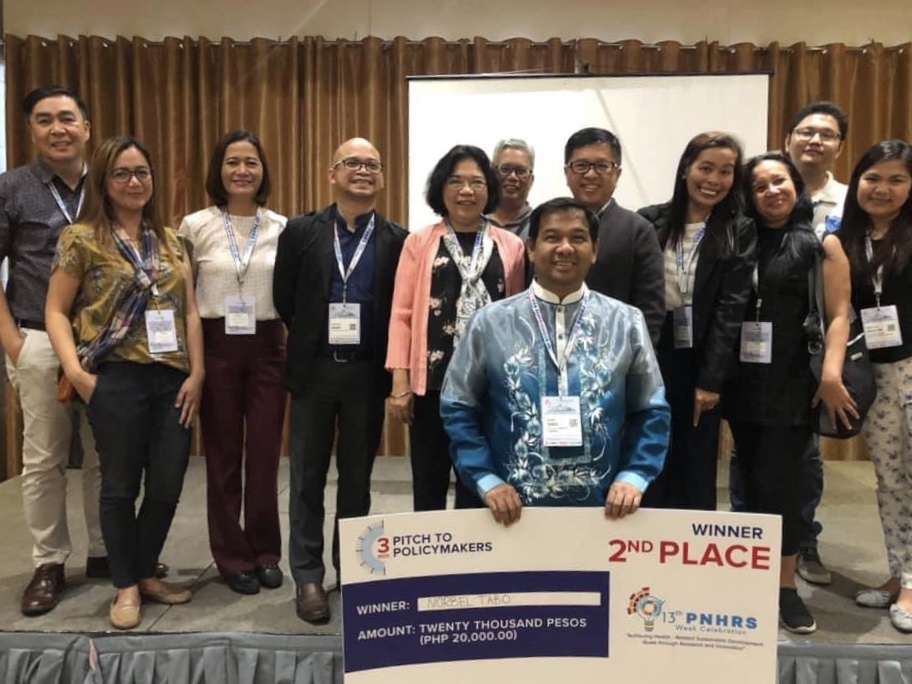 Cagayan de Oro City- Once again, the health research community gathered to celebrate the 13th Philippine National Health Research System Week (PNHRS) on August 13-16, 2019 at the Limketkai Luxe Hotel, Cagayan de Oro City. With the theme "Achieving Health-related Sustainable Development Goals (SDG's) through Research and Innovation", the celebration served as a platform for different stakeholders to discuss the current situation and challenges to achieve the Sustainable Development Goals, and how research and innovation contributes to SDGs. All the committees of the Health Research and Development Consortium Region IV-A (HRDCR IV-A) were well represented by its committee chairs and members who actively participated in the different sessions designed for the conference.
Aside from the main conference, a pre-conference session entitled "3-Minute Pitch to Policymakers", a competition, was also held on August 13, 2019 where Dr. Norbel Tabo of De La Salle University-Dasmarinas won 2nd place. His winning paper entitled "Prevalence of Leptospira-agglutinating Antibodies in Abattoir Workers and Slaughtered Animals in Selected Slaughterhouses in Cavite, Philippines" revealed that the presence of common serovars in abattoir worker-slaughtered animal interface could indicate continual source of leptospires and could pose problems on human health and that these serovars could be potential candidates for the development of vaccines and diagnostic tests. This successfully completed health research study was also funded under the consortium's Regional Research Fund (RRF) initiative.
Likewise, the study of Mr. John Leonard Chan of the University of the Philippines Los Baños entitled "Comparative In vitro Evaluation of E.coli  Isolates from Chicken (Gallus galllus) and Bat Guano for Potential Bacteriocinogenic Activity Against Pathogenic E. coli" bagged the 2nd place at the Inter- Regional Poster Exhibit Contest, Professional Category. The preliminary results of his study suggested the conduct of further studies including the optimization of conditions in the production of bacteriocins from E. coli. He further claimed that this is the first study on the production and characterization of putative bacteriocins from E. coli isolated from bat guano.
The study entitled "Platelet Aggregation Inhibition Properties of Putative Capsaicin extracted from Philippine Capsicum frutescens" by Mr. Juan Nathaniel Mapagdalita of Emilio Aguinaldo College – Cavite was also chosen as one of the finalists at the Inter- Regional Poster Exhibit Contest, Student Category.
On another note, Dr. Rommel Salazar, Chair of the HRDCR IV-A Committee on Capacity Building also received a Certificate of Recognition for having served as the PNHRS CBC Luzon Cluster Representative for year 2018 during the CBC Networking Session held on August 13, 2019.
This year's conference was hosted by the Northern Mindanao Consortium for Health Research and Development (NorMinCoHRD).