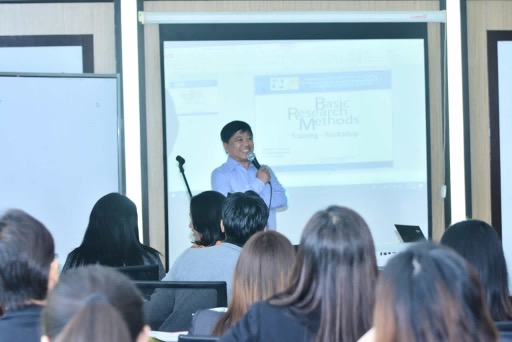 Dr. Melchor Victor G. Frias, IV, HRDCR IV-A Convenor welcoming the participants of BRM.
True to its objective of developing the capacities of researchers for conducting, managing and utilizing health research, the Committee on Capacity conducted the 2018 Training - Workshop on Basic Research Methods. This was held on November 13-15, 2018 at The Lake Hotel, Tagaytay City. The workshop consisted of lectures and workshops which were facilitated by Dr. Ophelia Mendoza and Dr. Ofelia Saniel of the University of the Philippines-Manila, College of Public Health.
The organizing committee required the following from the participants:
a.   A draft health research proposal aligned with the National Unified Health Research Agenda (NUHRA) and Regional Unified Health Research Agenda (RUHRA).
b.    Must be Full-time
c.    No previous attendance to HRDCR IV-A trainings on Basic Research Methods
A total of 24 participants attended the workshop. All of them were new and first timers in the Basic Research Methods Training. During the workshop, the standardized Basic Research Methods modules being developed by Symmetrix Research Consultancy Co. under the leadership of Dr. Ophelia Mendoza were pre-tested. The main difference between this pre-testing activity and the usual Basic Research Methods course was the training material, the sub-modules were thicker than the usual handouts distributed in the past. The participants were also asked to accomplish an evaluation form for each sub-module used after each session. Consequently, majority of the participants suggested the training-workshop be extended to 4 days to pave the way for more in-depth workshop activities.