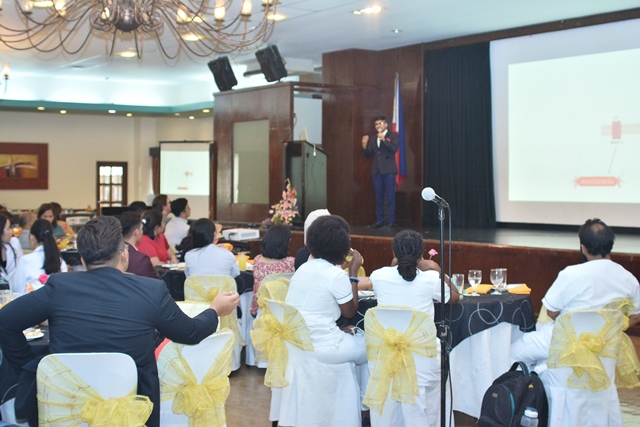 The Committee on Research Utilization headed by Ms. Susan Sta. Ana conducted the HRDCR IV-A 5th Multidisciplinary Research Forum last May 17, 2019 at the DLS-Villarosa Convention Hall, De La Salle Angelo King Medical Research Center, Dasmariñas City, Cavite. Health–related researches conducted and completed by the students and professionals from the HRDCR IV-A member-institutions were presented. The consortium invited judges from the member- institutions whose specializations were related to the completed research paper and one statistical judge.
The event aimed to enhance the capability of regional researchers in technical paper presentation and to disseminate research results for utilization in the region. The forum gathered 50 participants from HRDCR IV-A member-institutions who actively participated in the question and answer portion which took place every after presentation.
The following were the researches presented in the forum:
  PROFESSIONAL CATEGORY
> The Relationship Between Early Exposure To Screen Time And Language Delay Among Children Ages 24 Months To 30 Months Old In A Tertiary Hospital And In A Community In Cavite
Presented By: Michelle Margaret A. Blando, MD;
De La Salle Medical and Health Sciences Institute
1st Place
> Comparative In Vitro Evaluation of E. coli Isolates from Chicken (Gallus gallus) and Bat Guano for Potential Bacteriocinogenic Activity
      Presented By: John Leonard R. Chan, BSc;
 University of the Philippines Los Baños
 2nd Place
> Comparison of the Effect of Human Breastmilk vs Zinc Oxide in the Treatment of Diaper Dermatitis
Presented By: Annaliza E. Garduque, MD; Batangas Medical Center
3rd Place
> Prevalence of intestinal helminth infections and its association with anemia among first and second trimester pregnant patients seen at Batangas Medical Center Out-patient Department and selected Batangas City Health Centers from August 2017 to December 2018
Presented By:  Rhea Monina Z. Polintang, MD; Batangas Medical Center
> Forecasting the areas at risk of Dengue in Cavite Using Geographical Information System and Time Series Analysis
Presented By: Prof. Glenn Bryan Creencia; Cavite State University
STUDENT CATEGORY
> Angiosuppressive Effect of the Ethanolic Extracts of  Calocybe indica and Pleurotus ostreatus in Combination with Paclitaxel on Duck Chorioallantoic Membrane
Presented By: Monil M. Baghadia;
De La Salle Medical and Health Sciences Institute
1st Place
 > Platelet Aggregation Inhibition Properties Of Putative Capsaicin Extracted From Philippine Capsicum frutescens
Presented By: Juan Nathaniel Mapagdalita; Emilio Aguinaldo College-Cavite
2nd Place
 > Antibacterial Activity of Cell-free Supernate of Lactic Acid Bacteria Isolated from Fermented Mustard (Burong Mustasa) Against Drug-Resistant Enterics and Pseudomonads
Presented By: Jhanin Angela P. Tantoco ; De La Salle University- Dasmariñas
3rd Place
> The Antidepressant Potential Of The Pomelo Peel (Citrus maxima L. FAMILY RUTACEAE) Crude extract
Presented By: Tiffany A. Villanueva; University of Perpetual Help-Dr. Jose G. Tamayo Medical University
> Antimicrobial Activity of Kamias (Averrhoa bilimbi) Extract Against Escherichia coli, Salmonella enteritidis and Vibrio parahaemolyticus
Presented By: Mary Antoinette F. Padua; Lyceum of the Philippines University (LPU) – St. Cabrini School of Health Sciences Inc.
> Lived Experiences of People Living with Individual Immunodeficiency Virus ages 18-30 in Dasmariñas City Cavite
Presented By:  Lourence L. Castro; Cavite State University