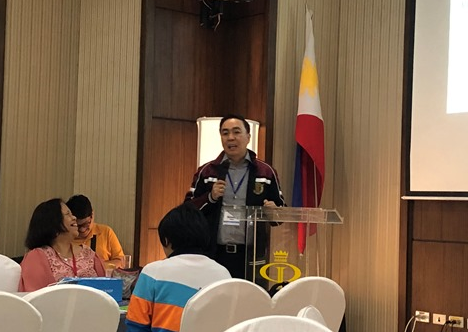 The Philippine Council for Health Research and Development (PCHRD) through the Symmetrix Research Consultancy Co. conducted a Regional Consultation Workshop regarding the standardization of training modules used on Basic Research Methods (BRM) courses last September 4-5, 2018 at the Golden Prince Hotel and Suites, Cebu City.
Dr. Rommel L. Salazar, Health Research and Development Consortium Region IV-A (HRDCR IV-A) Capacity Building Committee Chair and Ms. Reinachell Daclan, HRDCR IV-A Regional Project Staff attended the two-day workshop. The activity provided a platform for exchange of information and open discussion regarding standardized modules of BRM. It is believed that the following will be the advantages of standardizing the BRM modules:
1. Help ensure consistency in training outcomes of the BRMs conducted by Regional Health Research and Development Consortias (RHRDCs), which are aimed at enabling participants to develop quality health research proposals which can meet the standards of and can be funded by PCHRD;
2. Make it easier for RHRDCs to conduct the BRMs course since the availability of the standardized modules eliminates the need for local Resource Persons who have the ability to, and are willing to spend time to develop or share their own training materials;
3. Facilitate the monitoring and evaluation of the BRM courses conducted by RHRDCs and
4. Facilitate the application of training participants to earn Continuing Professional Education (CPE) points which PCHRD is currently considering
Dr. Ophelia Mendoza of the University of the Philippines-Manila is the Project Leader of this significant endeavor. The pre-testing of the standardized BRM modules is set to be conducted on November 2018.